I have been told by a lot of people to have soup for dinner if you want to lose weight. It makes sense as it helps fill your stomach and thus you end up eating lesser. But having the same 2-3 soups every day can be super boring and eventually, you can't keep up with this habit, at least I couldn't. This is what lead me to explore a ton of different healthy soups, and this red lentil coconut soup is one of my all-time favourites.
Is red lentil coconut healthy for weight loss?
The main ingredient of this soup is red lentils. Red lentil, which is the same as red split lentil or masoor dal, is a good source of protein for vegetarians.
It is loaded with iron (something that's often lacking in veg meals) and contains other important nutrients like Folate and Potassium. It is also high in fibre, which helps with digestion.
All of this makes the soup a super healthy, nutritious and tasty option to have while you are trying to lose weight (given that it is eaten is the right quantity of course!), or when you just want to have a wholesome guilt-free meal.
What spices and herbs to put in lentil soup?
This red lentil soup doesn't require too many spices and herbs, and the coconut milk gives it a naturally sweet flavour. It can be prepared in one pot with minimal ingredients and very little effort.
I really enjoy cooking, but I also really enjoy chilling! So I am always looking for easy, quick and tasty options. That's why this soup is one of my go-to dinner fixes. You will be pleasantly surprised by how easy it is to make and how amazing it tastes.
Do you have to cook or soak lentils before adding to the soup?
Another good thing about red lentils is that you don't need to prepare ahead. They don't need to be soaked for long hours like other legumes and beans. All you need to do is give it a nice wash before using it. Some people prefer soaking them. This helps reduce the cooking time, but since they cook very quickly anyways, this isn't really required.
What do you eat with red lentil coconut soup?
This red lentil coconut soup can be eaten alone as a light meal because the vegetables added to the soup make it filling. I normally couple this with either a salad or a slice of cornbread.
This soup is also vegan and gluten-free, making it is a great option for households with people following different diets.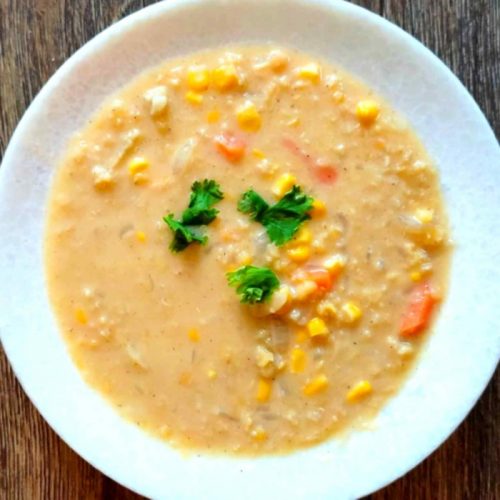 Print Recipe
Vegan One-Pot Healthy Red Lentil Coconut Soup Recipe
This healthy and super creamy red lentil soup is one of my favourites. It is naturally flavoured with the sweetness of coconut milk and one of the easiest dishes to make.
Ingredients
1

cup

red lentil

1

can

coconut milk

(400 ml)

1

medium size

onion

finely chopped

3-4

cloves

garlic

minced

1/2

cup

carrot

diced

1/2

cup

american corn

1

tsp

oil

1-2

bay leaves

1/2

tsp

chilly powder

1/2

tsp

cinnamon powder

Salt

to taste
Instructions
Take the red lentil, wash and soak. No need to soak it for long. Just let it sit while you start preparing the rest of the ingredients.  

Heat the oil, add the bay leaves, onions and garlic. Sauté till the onions are transparent.

Add the salt, cinnamon powder and red chilly powder.  Add the carrots and American corn. Sauté for 2 mins. 

Add the red lentil along with the coconut milk and ½ a cup of water.  

Cook on medium heat for about 20 or till the red lentil turn yellow.  

Add water to adjust the consistency of the soup.
Notes
I like the soup thick and so I don't add too much water, but you can always add more. Adjust the salt accordingly to the additional water.

You can increase the 

spice levels 

should you want, but my suggestion would be to keep it to the minimum, 

be

cause 

this will take away the natural flavor of the ingredients.